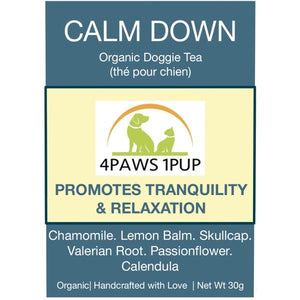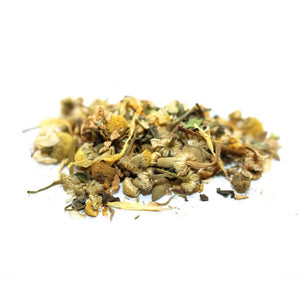 4PAWS1PUP CALM DOWN ORG TEA DOG 40G
ORGANIC
If your pup gets unpleasant side effects from hyper excitability, the Calm Down blend can help keep his nerves and digestive system calm during these moments. The organic Chamomile, Skullcap and Lemon Balm infused into this loose tea blend are effective carminatives, antispasmodics, and mild sedatives. The Passion flower and Valerian Root help increase your pets GABA levels, which inhibits over active nerve transmissions between neurons, effectively inducing a state of tranquility. The last touch of Calendula infused into the tea is to help assuage your companions nervous upset stomach.
Ingredients
Organic Chamomile, Lemon Balm, Skullcap, Valerian Root, Passionflower & Calendula

Suggest Use
Steep 1 tsp of loose leaf tea in 8oz of boiling water for 6 minutes. Make sure to cool before adding to your dog's food or bowl.