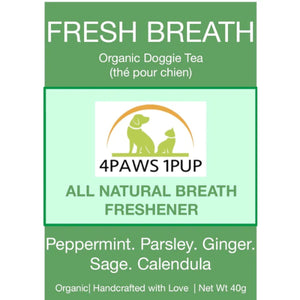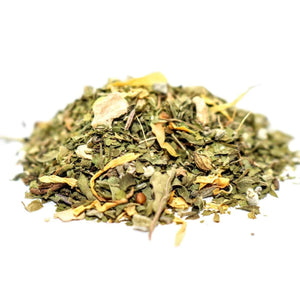 4PAWS1PUP FRESH BREATH ORG TEA DOG 40G
Regular price
$13.04
Sale price
$14.49
ORGANIC
If your furry companion has less then tolerable smelling breath, this Fresh Breath blend can help both of you out. Fresh Breath is a loose leaf tea blend specially made for freshening up your furry friends mouth. The parsley and peppermint contained in this tea blend are known to be all natural breath fresheners and effective at soothing upset stomachs. The sage and calendula components of the tea blend are helpful for healing and soothing mouth ulcers due to their anti microbial and astringent effects.
Ingredients
Certified Organic Peppermint, Parsley, Ginger, Sage & Calendula

Suggested Use
Steep 1tsp of loose leaf tea in 8oz boiling water for 6 minutes. Make sure to cool before adding to your dog's food or bowl.