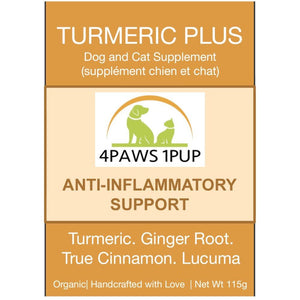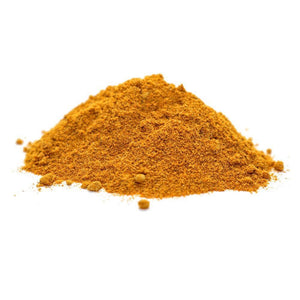 4PAWS1PUP TURMERIC PLUS 145G
Turmeric Plus, also known as Golden Milk is the ultimate superfood for your loving companion. The all natural organic turmeric research indicates that it kills off cancer cells and inhibits the growth of tumours in addition to acting as an anti inflammatory pain reliever that is often times better then other non prescription pain medications. Ginger is effective for soothing nausea and vomiting in your pet as well as assisting with disorders of the cardiovascular system. The final touches of lucuma and cinnamon are effective with helping your furry friend manage a well balanced blood sugar level and slows down the process of aging.
Ingredients
Organic Blend of Turmeric, Ginger, True Cinnamon and Lucuma. Lucuma is a plant that originates from Peru that contains some sweetness but does not spike blood sugar.

Suggested Use

Dosage (once/day):
Less than 10lbs - 1/8 tsp
10-20lbs - 1/4 tsp
20-70lbs 1/2 tsp
Over 70lbs 1 tsp
How to Use:  Mix in with your dog's food or add a little bit of warmed water to make a paste and then add to your dog's food.