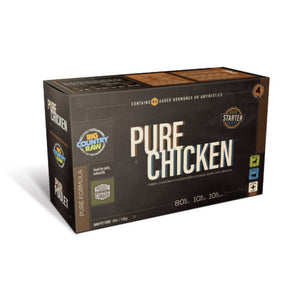 BCR PURE CHICKEN CARTON 4LB
Fresh Canadian Chicken with ground bone and organs.
Recipe Ratio:
80% Muscle Meat
10% Organ Meat
10% Ground Bone
Big Country Raw Pure chicken is very meaty with added poultry liver for a pure meal of meat, bone and organ meat.  Perfect for DIY raw feeders or those looking to add their own supplements to their dog or cat's dish.
Hormone & Antibiotic Free
Free-Range Chicken
Suitable for dogs & cats
Singular protein meal – 100% Chicken Protein