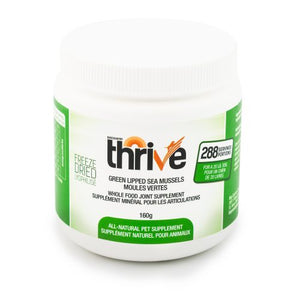 BCR THRIVE GREEN LIPPED MUSSEL 160G
Green Lipped Mussels are sourced from New Zealand and an excellent all natural joint support supplement.
Green-lipped mussels are shellfish from New Zealand and a recognized source of complex proteins, concentrated glycosaminoglycans, amino acids, omega 3 (ETA), omega 6, nucleic acids, selenium, and chelated minerals (zinc, copper and manganese). Green-lipped mussels are a source of chondroitin sulfate, a naturally occurring component of connective tissue and joint structure in animals. They also boast anti-inflammatory properties which also provide pain relief for dogs and cats suffering from elbow or hip dysplasia.