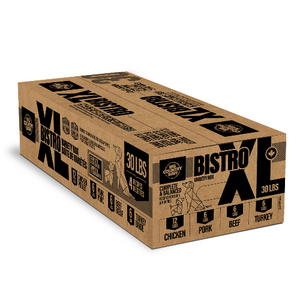 The ultimate in variety box - offering 4 proteins! Each box contains 12 lbs of XL Chicken, 6 lbs of XL Turkey, 6 lbs XL Beef and 6 lbs XL Pork. XL Turkey and XL Pork are ONLY available in the Bistro box.
Perfect for dogs and puppies of all ages - very convenient for multi dog households.
What Makes it XL?
A larger grind size results in bigger chunks of meat, bone, fruit and vegetables.  30 lbs! Each box contains 20 x 1.5 lb vacuum sealed packages.
These are complete and balanced meals formulated to NRC standards by BCR's in-house Pet Nutrition Expert, suitable for all life stages of your dog - including puppies and senior dog of all sizes and breeds.
Hormone and antibiotic free meat.
Not suitable for cats.