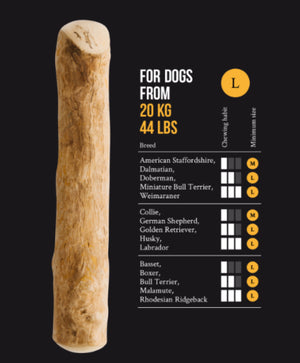 CANOPHERA COFFEE TREE DOG STICK LG
CANOPHERA provides natural sticks that both satisfy your dog's desire to chew and clean their teeth. If your dog fears being separated from you, gets nervous in unfamiliar and busy surroundings or while traveling, our chews provide a natural way to deal with it.
Made from the best materials mother nature has to offer. Coffee wood is an ideal resource for dog chew sticks. It is a lot harder than other wood, which is why these sticks are particularly resilient and less likely to splinter. And since it is the only ingredient in CANOPHERA sticks, they are 100 % vegan and free from any harmful additives.
Additionally, Since coffee wood is a natural byproduct during coffee production, no tree is uprooted or cut down just for us.