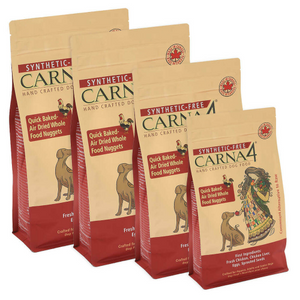 Ingredient List – Chicken Formula:
Fresh Chicken, Chicken Liver, eggs, organic sprouted barley seed, salmon, sweet potato, whole brown rice, organic sprouted flaxseed, organic sprouted lentils, organic sprouted peas, potato starch, apples, carrots, sea salt, kelp.     …Nothing Else
Eggs

 

– As a perfect complement to our fresh table-grade chicken and its iron-rich liver, eggs serve up plentiful protein with essential amino acids needed for growth and muscle development, plus naturally occurring vitamin E and 14 key nutrients.
Atlantic Salmon

 

– We use quick-frozen, clean, Atlantic salmon that has been de-boned. It is an excellent source of protein, calcium, Omega-3s and vitamin D for helping to maintain strong bones with a shiny skin and coat, warding against inflammatory conditions like arthritis and combating infection.
Organic Sprouted Barley Seed, Flaxseed, Lentils and Peas

 

– Our Flora4 blend of some of the best natural sources of vitamins, minerals, probiotics and enzymes that supply optimum, bio-available nutrition for dogs of any age, size or breed.
Whole Sweet Potatoes & Carrots

 

– Rooted with natural sources of antioxidants, beta carotene (vitamin A), B vitamins and various minerals, including iron and niacin, these garden vegetables add essential nourishment to your dog's diet.
Whole Apples

 

– This scrumptious fruit adds vitamins and disease-fighting antioxidants, while its pectin provides soluble fiber to keep your dog 'regular' and help reduce colon cancer risks.
Kelp

 

– This nutritious plant provides amino acids, vitamins and naturally occurring trace minerals, including iodine and potassium, as well as other essential micronutrients.