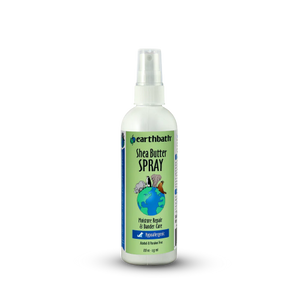 EB HYPO ALLERGENIC SHEA SPRAY 234ML
Ingredients: Purified water, Nilotica shea butter*, calendula officinalis extract, allantoin, hibiscus sabdariffa extract, hydrastis canadensis (goldenseal) root extract, panthenol, medicago sativa (alfalfa) extract, plantago major (plantain) extract, symphytum officinale (comfrey) extract, oatmeal, vitamin E, aloe vera*, phenoxyethanol. *certified organic ingredient.
This ultra-moisturizing, hypoallergenic shea butter spray is formulated to improve common skin conditions and promote a healthy, shiny coat. Use regularly to help manage dry skin, hot spots, seasonal itching and dander. Reducing dander can help to alleviate human-pet allergies, so you can both enjoy more snuggle time. Made with Fair Trade Nilotica shea butter, aloe vera, and other super-premium conditioners to help alleviate irritated and itchy skin. Can be applied directly to minor wounds and abrasions. Safe for pets over 6 weeks old.