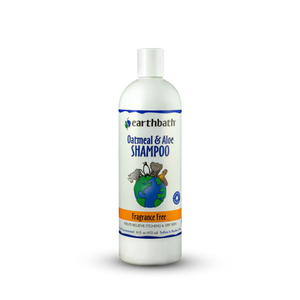 EB OATMEAL ALOE SHAM NO SCENT 473ML
Ingredients: Purified water, colloidal oatmeal, renewable plant-derived & coconut-based cleansers, organic aloe vera, vitamins A, B, D, & E, panthenol, preservative.
earthbath® specially formulated this Fragrance Free Oatmeal & Aloe Shampoo to address the needs of pets with dry, itchy, sensitive skin. Colloidal oatmeal and organic aloe vera are recommended by veterinarians to combat skin irritations, promote healing, and re-moisturize sensitive, dry skin. This luxurious shampoo is soap free and pH-balanced to clean and deodorize safely and thoroughly, leaving your pet's skin and coat brilliantly clean, soft, plush, and smelling better than ever before. Will not wash off topical flea applications. Safe for all animals over 6 weeks.