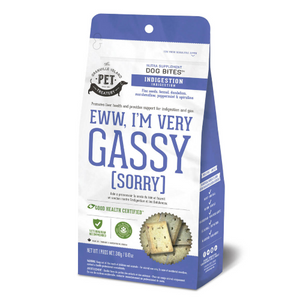 Fennel, Dandelion, Marshmallow, Peppermint, Flax Seeds & Spirulina
Promotes liver health and provides support for indigestion and gas.
Ingredients: 
Fennel (Foeniculum vulgare) promotes overall health of the digestive system.
Dandelion (Taraxacum officinale) has high antioxidant properties and promotes a healthy immune system. Studies show that the root can also be helpful in dogs with indigestion and gas. Dandelion stimulates the appetite and promotes healthy digestion and kidney function; Dandelion leaf may also act as a diuretic. Dandelion leaf also stimulates the liver and promotes the elimination of waste material from the body. The root helps to remove toxins from the body, via the kidneys. Signs of toxicity can include skin issues, dandruff and tummy upsets. 
Marshmallow (Althaea officinalis radix) supports the health of the digestive system. Provides mucilage that encourages healthy gut mucosa.
Peppermint (Mentha x piperita) and Fennel (Foeniculum vulgare) promotes the flow of digestive juices to stimulate appetite and encourages healthy digestion and reduces flatulence. Reduces bloating and discomfort.
Flax seeds (Linus usitatissimum) are a good source of omega-3 fatty acids which are good for skin and coat.
Spirulina (Spirulina platensis) promotes and strengthens the immune system, improves gastrointestinal health, aids in detoxification and help with seasonal allergies.
As a part of the health-giving Nutra Bites™ category, these healthy and tasty bites for dogs are rich in vitamins A, B, C & K, potassium, manganese, phosphorus, flavonoids, mucilage, phenolic acids, calcium & iron.