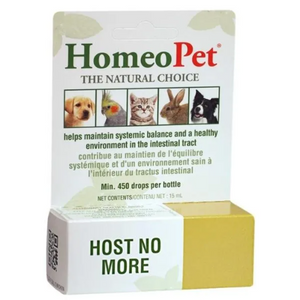 HOMEOPET HOST NO MORE 15ML
HomeoPet Host No More is formulated to remove hook, round, whip, and tapeworms. This remedy may also be used for prevention by reducing susceptibility to infestations, or for recovery from worm effect and detoxify from the effects of conventional products.
Ingredients: Arsenicum Alb, Chenopodium Anthelminticu, Cucurbita Pepo, Filix Mas, Kamala, Natrum Phosphoricum, Silica Terra, Sulphur, Thymol, Natrum Muriaticu, Calcarea Carbon, Cina, Ferrum Phosphoricu, Granatum, Naphthaline, Nux Vomica, Spigelia Anthelmintica, Teucrium Marum, Triticum Repe.