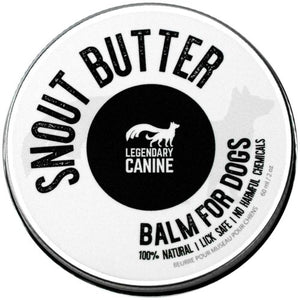 LC SNOUT BUTTER UNSCENTED 60ML
LEGENDARY CANINE
BIODEGRADABLE | ECO-FRIENDLY | LICK-SAFE
We handcraft each jar in Canada using only the finest, human-grade, 100% natural ingredients. The oils and butters we use are chosen to specifically benefit dogs.
Our Snout Butter for Dogs helps restore and protect your dog's snout and lips.
This luxurious butter is naturally scented and has hint of honey from the unrefined Canadian beeswax. All of our beeswax is Canadian and locally sourced.
Snout Butter is made with 100% natural oils that are packed with benefits to dogs:
COCONUT OIL
Anti-bacterial
Antiviral
Anti-fungal
Moisturize
Relieves itching
ORGANIC SHEA BUTTER
Anti-inflammatory
Moisturizer
Relieves itching and rashes
PUMPKINSEED OIL
Anti-inflammatory
Antioxidant
Moisturizer
Promotes hair growth
UNREFINED CANADIAN BEES WAX
Antibacterial
Anti-Inflammatory
Antiviral
Moisturizes and protect skin cells
Relieves itching
Creates protective barrier