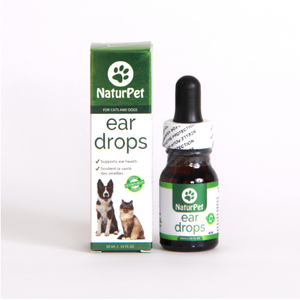 This herbal formula that has been used for decades as an effective treatment for many kinds of ear conditions including outer and middle ear infections. Ear Drops works to reduce inflammation and pain through a combination of herbs. These herbs have antibacterial, antiviral and anti-inflammatory benefits and contains ingredients to offset problems with tinnitus and dizziness. For skin irritations and infections, try PAW & SKIN. Regular grooming helps keep your pet happy and is a good way to find abnormalities or changes in your pet's health.
ACTIVE INGREDIENTS:
Olive Oil, Calendula, Vitamin E, Basil Oil, Aloe Vera, Bergamot Oil
---
Olive Oil is soothing to any inflammation in the ear. A natural moisturizer, it helps to balance secrections in the skin. Olive oil helps to loosen waxy buildup from the ears.
Calendula is one of the best herbs for soothing and healing the skin. It has anti-inflammatory, antiseptic and antimicrobial properties to control bacterial and yeast growth. Safe for sensitive skin.
Vitamin E helps to soften and moisturize dry, flaky skin.l
Basil Oil is a strong antiseptic and anti-inflammatory, making it ideal for reducing ear pain caused by viral, yeast, or bacterial infections of the ear canal.
Aloe Vera soothes and hydrates itchy, irritated skin. Anti-inflammatory effects and the ability to stimulate cell growth and repair makes it great for calming any earache. 
Bergamot Oil is antibacterial, antimicrobial, and anti-inflammatory, helping to inhibit the growth of bacteria, viruses, and yeast in the ears.