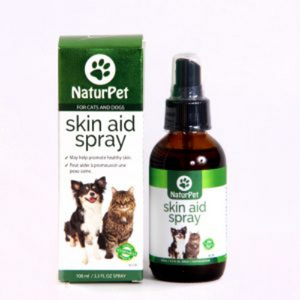 NATURPET SKIN AID SPRAY 100ML
 Works well for cat fight wounds, surface cuts or scratches, boils or abscesses, and insect bites.
• Reduces swelling and inflammation.
• Cleans and protects wounds.
• Prevents and treats infections with its antimicrobial and antibacterial properties.
• Speeds up the healing process.
• Suitable for both cats and dogs
Active Ingredients
Calendula is one of the best herbs for the first aid treatment of burns, bites, scratches, and other wounds. Antimicrobial and anti fungal effects help to fight infection.
Echinacea is used for its antibacterial, antiviral, and anti-inflammatory properties. This helps to reduce the swelling, redness, and pain associated with a wound, bite, or sting. Echinacea stimulates the production of T-cells, an important way for the body to defend itself from infection.
Inactive Ingredients: Purified Water, Alcohol.