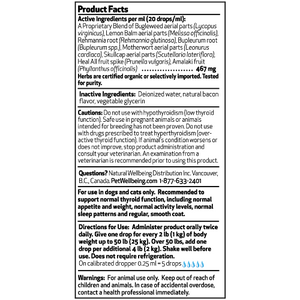 PET WELLBEING THYROID GOLD 2OZ
Thyroid Support Gold is Formulated With:
Bugleweed herb (Lycopus virginicus): Bugleweed is extensively used in herbal medicine to maintain thyroid function. Its action is considered "amphoteric", meaning it has the ability to support a balance of normal thyroid hormone levels, rather than cause more or less hormone function.
Lemon Balm herb (Melissa officinalis): Lemon Balm has been shown to help maintain a normal range of thyroid hormones and overall thyroid function. Additionally, it is an herb that supports a more relaxed nervous system.
Rehmannia root (Rehmannia glutinosa): In energetic terms of Traditional Chinese Veterinary Medicine, this formula requires "Yin tonic" herbs to help with clinical symptoms, making it more balanced for long-term administration.
Bupleurum root (Bupleurum spp.): An overactive thyroid condition is characterized in TCVM (Traditional Chinese Veterinary Medicine) as Yin Deficiency. Both Rehmannia and Bupleurum roots provide tonic qualities for Yin Deficiency, making the formula more appropriate for long-term administration.
Motherwort herb (Leonurus cardiaca): Motherwort is used for its dual action to support both the heart and the nervous system. It contributes to a general feeling of calmness and can also help to maintain restful sleep.
Skullcap herb (Scutellaria lateriflora): Supportive to the nervous system and maintaining regular, calm temperament and restful sleep, Skullcap is considered useful for the nervous system and supporting healthy blood pressure as well.
Heal All fruit spike (Prunella vulgaris): Also called Self Heal, this small herb is used in Traditional Chinese Medicine for conditions of "Yin deficiency" and commonly used for gently supporting the thyroid. Although grown widely in North America, Heal All's specific use in this formula comes from the way it is studied and used in the east where it is called Xie Ku Cao.
Amalaki (Amla) fruit (Phyllanthus officinalis): The fruit of this Asian tree contributes high levels of naturally-occurring Vitamin C, a vitamin necessary for healthy thyroid function.
...467 mg per ml (20 drops/ml)
All herbs are certified organic or selectively imported.
Inactive Ingredients:
Deionized water
Natural bacon flavor
Vegetable glycerin
What Does Canine Hyperthyroidism Look Like?
The most common symptoms of a hyperthyroid condition in dogs are weight loss with increased (or decreased) appetite and excessive thirst. Additionally, there will be agitation and nervousness, and sometimes diarrhea and vomiting. Hyperthyroidism is fairly rare in canines and can be a very serious disease. Sometimes, hyperthyroidism is a sign of an underlying thyroid cancer so it is important to have your dog thoroughly examined if hyperthyroidism symptoms occur.
What is Thyroid Support Gold?
Thyroid Support Gold is a natural supplement designed to give gentle support to the canine thyroid gland. The principal herbs in this formula specifically address thyroid hormones. The adjunct herbs support other parts of the body that can be affected by thyroid hormones:  heart function and the nervous system (including activity levels and sleep). This product also contains naturally-occurring Vitamin C (from Amla) that provides support for the thyroid and the immune system.
What is Thyroid Support Gold Used For?
Our holistic veterinarian created the ideal balance of complementary botanical ingredients to maintain long-term, normal function of a canine's thyroid gland. Specifically, Thyroid Support Gold works to sustain the normal equilibrium of metabolism. When the metabolism is affected by the thyroid hormones, it will influence the appetite, thirst and body weight. Skin and coat are affected as well. Normal thyroid hormone levels and a healthy metabolic rate can significantly contribute to the comfort and wellness of your dog for a better quality of life.
The action of thyroid hormones indirectly affect the heart rate, force of the heartbeat and affect the level of nervousness in the body. For this reason, Thyroid Support Gold has been formulated to support the entire body as it relates to thyroid function. Herbs for healthy function of the heart muscle, normal heart rate, and a normally calm temperament are part of what makes Thyroid Support Gold a comprehensive and effective formula.
The action of Thyroid Support Gold is effective yet works gently. Supporting your canine's hormone levels requires a long-term outlook. Please expect that natural supplements for supporting normal thyroid function are going to work gradually over several weeks before you can expect evidence of the results.
Does it Come With a Guarantee?
Yes! Thyroid Support Gold comes with a 90-day, money-back guarantee.
Why Choose Thyroid Support Gold for Your Canine Friend?

Certified organic and selectively imported:  This formula is entirely prepared from organically grown and selectively imported herbs from trusted growers.
Good Manufacturing Practices:  All of our formulas are manufactured in a facility that adheres to Good Manufacturing Practices.
Full Sprectrum Extract:  The full biochemical spectrum of the herbs is preserved  to ensure the potency of the extract.  All raw materials are tested for identification and purity.
Every batch tested:  Every batch of our Thyroid Support Gold is tested to ensure the highest quality and potency.  Every single batch.
FDA-Registered Facility:  Our manufacturing facility is FDA-registered.  Strict quality control procedures are meticulously monitored.
FDA Center for Veterinary Medicine Guidelines:  PetWellbeing.com complies with the provisions of the CVM's good guidance practices for pet dietary supplements.  All ingredients and caution statements adhere to these national guidelines.
It's Guaranteed:  In addition to the superior quality of our products, you are also protected by our 90-day money-back guarantee.
Who Makes Thyroid Support Gold?
Thyroid Support Gold is made by PetWellbeing.com, founded in 2001.  Our goal? To bring the wisdom and experience of our caring holistic veterinarians to your pet.  When your pet is healthy; you're happy.
To fulfill our vision, our on-staff, holistic veterinarians have developed formulas using time-honored, traditional uses of herbs, and integrated the latest scientific research.  It is our aim to produce the best products for your pet that we can.
Healthy Tip from Dr. Jan: Combine Thyroid Support Gold with Milk Thistle for support of hyperthyroid (hyper-metabolic) conditions. The support for the liver provided by Milk Thistle, when the enzymes are elevated on blood panels, is very important and can support nutritionally and phytochemically. If intervention with natural products like these is taken early, the progression of hyper metabolism can be diminished.