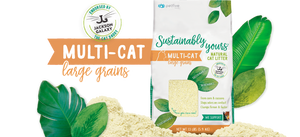 SUSTAINABLY YOURS CAT LITTER LG GRN 26LB
The specially prepared corn in Sustainably Yours has exceptional odor-fighting properties. It instantly neutralizes offensive smells without added chemicals, and keeps on working – no matter how many cats you have.
low dust, chemical and fragrance free
Sustainably Yours is made in a proprietary way that virtually eliminates dust. It doesn't contain any chemicals or fragrances. Plus, it's formulated for minimal tracking!
clumps firmer and faster.
The cassava in Sustainably Yours is naturally rich in starch. It works exceptionally well with corn starches to form remarkably solid clumps. These clumps not only entrap any residual odor but unlike ordinary plant based litters, they can easily be scooped out without breaking or crumbling.
After soaking for 15 minutes, Sustainably Yours clumps can be safely* flushed. However, parasites in cat litter have been found to harm certain mammals and we recommend you do your research before flushing.