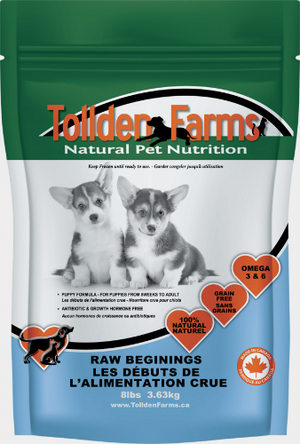 TF RAW BEGIN'S PUPPY 8LB (1/2LB PATTIES
Raw Beginnings
Our Raw Beginnings puppy food has been carefully formulated to give puppies the best start in life. Packaged for convenience, Raw Beginnings can be fed for the first year of your pet's life.
For puppies of all breeds
Contains only farm fresh, human grade ingredients
Specially formulated for growing puppies
Feed between 5% - 10% of your puppy's weight - depending on breed and activity level
Ingredients
Double ground beef, heart, turkey bones, liver, eggs, romaine lettuce, dandelion leaves, sweet potato, carrot, collards, kale, zucchini, kelp, and omega-3 cold pressed fish oil.
Nutritional Analysis
per kg
Moisture

69.00%

Protein

15.00%

Phosphorus

0.35%

Calcium

0.55%

Ash

2.30%

Fat

6.75 %

Fibre

<1 %