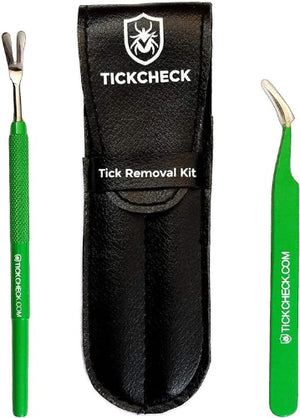 TICK CHECK PREMIUM TICK REMOVER KIT
The TickCheck Tick Remover Toolkit is designed for easy and complete tick removal for humans, dogs, cats, and animals. This kit includes two high-quality stainless steel tick removers designed to easily remove partially or fully embedded ticks of any size, as well as a carrying pouch and tick identification card.
Unlike other cheap plastic tick remover tools, these TickCheck tick remover tools are crafted from high-quality stainless steel. Our tools will stand up to high-volume daily use for those in a heavy tick area, and can be sterilized or washed for a lifetime of use.